Mandatory for Power Line Communication
Power Line Communication (PLC) is already well known for smart home systems. PLC ist the intelligent cooperation of several different equipments to manage the home environment by using the installed power line wires.
Even automotive customers are getting more and more interested in this technology. Plug-in hybrid and electric cars exchange information with the network provider while charging.
Beside the PLC Modules or ICs the right coupling transformer is mandatory.
Samples
Contacts
News
Manufacturers & Contacts
ELYTONE
ELYTONE Electronic develops and produces high-quality and reliable inductive components for the electronics industry. As the global market is changing rapidly, ELYTONE's first priority is to meet customer's market demands as well as providing innovative and customized products for their applications. With the in-house research and development departments in Taiwan and China, ELYTONE is able to fulfill the market needs.
Infos
Samples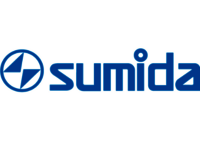 SUMIDA
SUMIDA is one of the leading manufacturers of inductive components and flexible connection technologies. The product portfolio includes individual products and comprehensive solutions for the automotive, electrical and electronics industries. SUMIDA develops, produces and markets inductive components, flexible connection technologies, modules, component groups and complete systems.
Infos
Samples